Who We Are
The attorneys at Reager & Adler are proven resources in the community and are committed to providing each client with quality advice, innovative solutions and personalized service. Founded in 1979, the firm's four attorneys combine to offer decades worth of legal expertise, experience, and problem-solving skills. Capitalizing on these strengths, Reager & Adler has grown to become a well-recognized, full service law firm.
The firm initially built its reputation for excellence through its work in the areas of Real Estate, Estate and Business Planning, Construction Law and Civil Litigation. Over the course of the last 40 years, the firm has evolved and now boasts experienced attorneys in a multitude of practice areas including Commercial Real Estate, Residential Real Estate, Business Planning, Estate Planning, Estate Administration and Litigation, Mediation and Dispute Resolution, Municipal Law, Land Use and Zoning, Civil Litigation, General Liability, Construction Law and Insurance Subrogation.
At Reager & Adler, we are committed to providing our clients with the advice and attention to detail they deserve to assist them in resolving their disputes, managing their risks and preventing problems. We have handled thousands of cases over the life of the firm, and we look forward to providing you with the high quality service on which our reputation has been built.
Reager & Adler serves clients from our Camp Hill office all throughout Pennsylvania.
Why Choose Reager & Adler?
For more than 40 years, clients have chosen Reager & Adler for their legal needs for a variety of reasons, but most importantly, because we genuinely care about you and the results you desire. Your problems are our problems. Our firm has been able to grow and serve the needs of clients for many years by obtaining good results. A true testament to our commitment to you is our work product and results. Additionally, our attorneys and staff are dedicated to serving your needs and take pride in being responsive, accessible and available to discuss your issues. Our clients include, and have included individuals, families, privately held businesses, large corporations, government entities, real estate professionals, construction companies, general contractors, specialty contractors, subcontractors, insurance companies, third-party administrators, in-house legal departments and other law firms.
History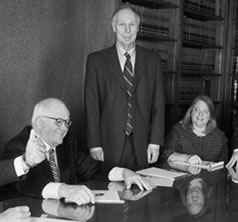 Dave Reager and Ted Adler founded the firm in 1979. Each had previously worked in state government. Ted served as a Deputy Attorney General and Chief Legal Counsel to the Pennsylvania Department of General Services, while Dave served as Assistant Attorney General and Special Counsel to the Deputy Secretary of General Services for Procurement.
From its inception, Reager & Adler was focused on Real Estate, Estate and Business Planning, and Construction Law and Civil Litigation. During the next three decades, core services diversified and specialized, service delivery achieved consistency, referral and networking capabilities expanded, and the firm developed a strong community presence.
1980s
Additional attorneys joined the firm. Reager & Adler moved to Harrisburg with a second office in Camp Hill.
1990s
The firm consolidated its offices in Camp Hill. Practice areas expanded to include Land Use and Zoning and Municipal Law.
2010
Estate Administration, Employment Law, Elder Law, and Arbitration/Mediation were added to the firm's service platform.
2019
The Firm celebrates 40 years serving its community. Reager & Adler would like to thank its clients for allowing us to serve you for the last 40 years and looks forward to the future.